My Journey with Indian Mujahedeen

How Indian Mujahedeen formed?

History of Indian Mujahedeen from year 2003 to year 2012

Dear All,

Introduction to Indian Mujahedeen: To understand Indian Mujahedeen we need to know my history from year 2003. Indian Mujahedeen founded by Hindu his name is Venkata (Kalki). In Aug/2007 Indian Mujahedeen released first letter in bomb blast. In that letter Indian Mujahedeen clearly mentioned Hindus also working in Indian Mujahedeen. Yes Hindus also working in Indian Mujahedeen. Indian Mujahedeen founded by Hindu. Venkata (Kalki) was working alone in his group in year 2003/2004. Venkata started working on Muslims problems and world problems. Later in Year 2004-2005 one Muslim Ad Dajjal joined in the group. Both were working in Group from Year 2004 to Oct/2006. Ad Dajjal knows few friends who know Indian terrorists and ISI agents. From year 2005 to year 2006 Ad Dajjal used to transfer message from Venkata messages to terrorists. Terrorists got attracted by Venkata messages and joined Venkata group. In beginning of 2007 Terrorists gave name to Indian Mujahedeen to his group and started central location in Hyderabad. Indian Mujahedeen exploded first bombs in Lumbini Park and Gokul Chat. Indian Mujahedeen not responsible for Makka blast. Later Indian Mujahedeen exploded bombs in different locations all over the India. Indian Mujahedeen responsible for UK Glasgow airport petrol bomb and Indian Mujahedeen responsible for October 2007 California wildfires. Indian Mujahedeen has men all over the world.


Official information in Facebook https://www.facebook.com/indian.mujahideen

Regards




22/Apr/2012


---


History and activities of Indian Mujahedeen from year 2003 to 2012….

Year 2000 to 2003: I was in USA from 22/Jan/2000 returned on 6/Sept/2003. I was busy with my software job in USA, One year later world trade center attack took place since then I was observing world problems and Muslims problems and terrorists activities. I got disturbed by seeing innocent people deaths in Iraq war and started my own investigation on Iraq war and developed investigation report on Iraq war and WTC attack and submitted to Livermore police California on 16/July/2003. By Based on my report on 2003/July/17 USA intelligence kidnapped Iraq weapon inspector Dr. David Kelly on 17/July/2003, USA intelligence pulled all information from Dr. David Kelly and found people behind illegal Iraq war, People behind World trade center attack at end USA intelligence killed Iraq weapon Inspector Dr. David Kelly on 17/July/2003. I left USA on 2003/Sept/6 and I arrived India.


Year 2004: You can get more information on Dr. David Kelly death at web page https://www.swastik.org/david.htm. I gave David Kelly assassination information to AP DGP office, Subsidiary Intelligence Bureau, AP IB and MIM office but no use, they did concentrated on David Kelly information that can do better improvement in Iraq and put end to innocent people death. Few days later I got introduction to Moheen in Madhapur/ Hyderabad Masjid. Two days later I got meeting with Ad Dajjal who is a Terrorist sympathizer by Moheen in Internet Center. I told him about David Kelly Information and what illegal thing happened in Iraq. Since 2004 Ad Dajjal talk to me and watching my website www.swastik.org and me.


Year 2005-2006: I sent David Kelly Assassination information to President of India to take action; complaint numbers are P1/A – 49762 and PRSEC/E/2011/17497. I got letter from President of India complaint number P1/A – 49762. But they didn't do any action further. I was disappointed by what President of India action. I told Ad Dajjal about response from President of India. I quit thinking about letter and started developing my website https://www.swastik.org. Ad Dajjal and some Terrorists watching my website and observing my activities.

Year 2006/Oct: Few days before 21/oct/2006 Ad Dajjal arranged me meeting with some Terrorists in Madhapur road in Hyderabad. Ad Dajjal asked me to join their group, I said no to them. After 2006/oct/21 few days later I made CD disk about my website including hidden chapter that you can see in website and passed to Ad Dajjal. Ad Dajjal passed CD disk to Terrorists. In CD disk you can see "Chapter 0 – invitation.htm" that you can't see in https://www.swastik.org. Terrorists passed CD Disk passed other Terrorists in different locations in India as well as allover the world.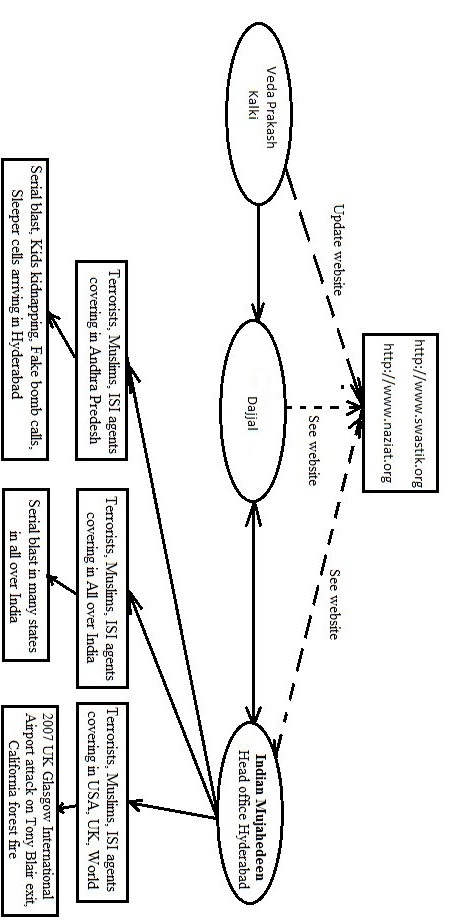 Structure of Indian Mujahedeen

Year 2006/Nov/Dec: Nov/Dec I call Ad Dajjal for response on my CD disk. Ad Dajjal told me Terrorists wants to know "What is solution to fix problem between Sunni and Shia Muslims to prove that I am Jesus (Isa Assalam) because only Jesus Second come will fix that problem. Since then Terrorists monitored my activities and my movements. I mean they did spying on me.

Year 2007/Jan–Apr: I had been spent my time to develop "Chapter 22" in https://www.swastik.org. This chapter is about "How to fix problems between Sunni and Shia?" During developing this page I met Ad Dajjal many times. Many time he used to bring some Terrorists to see me. Many Terrorists used to think I am Dajjal by reading my website. Ask Muslims what is meaning Dajjal? During meeting Ad Dajjal, Ad Dajjal used to connect another cell phone to transmit my voice communication to Terrorists. Terrorists used to hear my message secretly.

Year 2007 May: On May 18, 2007 Makka Masjid blast took place. Indian police started monitored me by their agents. I thought Indian Mujahedeen did the Makka Masjid blast. But When I met Ad Dajjal on Sept 2009 he told Indian Mujahedeen is not responsible for Makka Masjid blast.

Year 2007August: On 25 August 2007 Indian Mujahedeen did first blast in two places Lubini Park and Gokul chat to support me, my work and my website https://www.swastik.org. Many people died in that incident. I was not satisfied for what Indian Mujahedeen did. Next day on 26/Aug/2007 I got call from unknown person from Indian Mujahedeen and conformed blast. I understood Indian Mujahedeen did these two blasts. I didn't give any response to that call. I thought if I give any positive response to that call something other blast would happen. Indian Mujahedeen released first letter to police that says Hindus also working in Indian Mujahedeen by keeping me in mind.

Year 2007August: From 2007 Aug to Next year 2008 Indian Mujahedeen did many blasts all over the India by reading my website and code in my website. I was developing website https://www.swastik.org and developed many chapter in my website. There are three chapters which you can't see in website https://www.swastik.org but you can see in CD Disk. Indian Mujahedeen read those three chapters used all my techniques. In Andhra Pradesh many fake bomb calls received in Police control room, all those done by Indian Mujahedeen and students. Note: I do communicate with Ad Dajjal by pasting letter in https://www.naziat.org/dajjapowers.htm web page.

Year 2007: I kept one missing kid picture in my website for different purpose (How to trace the kid). That kid is missing in London since long time and shown below. When Indian Mujahedeen saw that picture in my website. Then Indian Mujahedeen started kidnapping kids all over the Andhra Pradesh, some got killed and some are dropped other place.

Year 2007: Indian Mujahedeen is trained to ware veil dress like women and plant bomb. And they don't have more weapons but they trained burn forest and wooden house by petrol (Gas). Indian Mujahedeen is not against people but they against Yajuj Majuj. What Indian Mujahedeen did in India is sample to show strength, and they don't have special interest do more in India. Who financed Indian Mujahedeen in 2007-2008? I don't know but I believe Dawood Ibrahim financed for Indian Mujahedeen. Dawood Ibrahim's money was flowing in to India in 2007-2008. In year 2007-2008 sleeper cells and terrorists were arrived to Hyderabad to see Venkata.

Year 2007/June: UK Glasgow International Airport attack on Tony Blair exit from Prime Minister chair. Indian Mujahedeen connected group did Glasgow International Airport attack when Tony Blair exit took place from prime Minister position. Reason, Tony Blair is the main person who caused Iraq war that cause nearly 200,000 innocent people death. Tony Blair ordered Iraq weapon inspector Dr. David Kelly to create false report that says Iraq has weapon of mass destruction (Nuke Bomb). Later Tony Blair and his group gave that report to USA. USA started war on Iraq and USA didn't find any Weapon of mass destruction in Iraq. Master plan of Iraq war done in England and Tony Blair was a mastermind in that plan. So I kept message in website "show your strength in England using Middle East petrol on Tony Blair exit from Prime Minister position". So Indian Mujahedeen connected group did Glasgow International Airport attack UK Glasgow International Airport attack was a gift to Tony Blair. Investigation says Airport plan origin from Banglore in India. That is not true; if they do further investigation they will find Hyderabad/India is origin. This has done by Indian Mujahedeen connected group.

Click link for more details https://news.bbc.co.uk/2/hi/uk_news/scotland/6257194.stm

Year 2007/Oct-Nov: In October 2007, in USA forest fire took place in California many places with little time difference. Huge fire took place in forest many houses burned out. Here is web link https://news.bbc.co.uk/2/hi/americas/7058809.stm. USA couldn't figure out who did and how it was happen. Still USA is investigating how California wild fire took place. The fact is Indian Mujahedeen did that fire. Some code was written in https://www.swastik.org, the operation code was "campfire". If USA attacks Iran then there will be huge fire in forest and wooden house all over the USA. If England involved in Iran war then same thing will happen to England. CD disk contains website https://www.swastik.org passed all over the world including 3 hidden chapters. Click link for more details https://news.bbc.co.uk/2/hi/americas/7058809.stm.


Year 2008/Aug: I made all terrorists united in India and name them Indian Mujahedeen. Indian Mujahedeen did last blast in India mid of 2008 since then Indian Mujahedeen stopped doing all activities. What you saw blasts after mid 2008 is done by some other who are out of Indian Mujahedeen not by Indian Mujahedeen. After mid 2008 Indian Mujahedeen didn't released any letter to public. I quit Indian Mujahedeen in mid of 2008 and doing developing website for further activity. Now in charge of Indian Mujahedeen is Ad Dajjal who is staying Saudi Arabia. In mid 2008 I applied operation "Aishwarya" to shut down www.swastik.org for following reasons.
1) To stop police monitoring my activity and me.
2) Lack of money I closed my website www.swastik.org
3) To control Indian Mujahedeen I did shut down website.
4) To stop USA intelligence monitoring on my activity and me.
5) To start my website work at background.
6) Takes some time to pass my CD Disk allover the world.
7) This is not right time to begin Qayamat war.
8) I have to prove I am false prophet to make USA involve on Iran to increase USA mistakes.
Year 2007: In 2007 on Vinayaka Nimarjanam, I was walking on street one agent from Indian Mujahedeen followed me. He was followed me to get signal from to blast bombs in Hyderabad on Vinayaka Nimarjanam night. I didn't give any signal any change of face expression. Indian Mujahedeen didn't do any blasts on that day. Indian Mujahedeen left all unexploded bombs on street and left. If I had given any signal that day Indian Mujahedeen would have done blasts on Vinayaka Nimarjanam. This has conformed by Ad Dajjal in Sept/2009.

Year 2009-2012: In Sept/2009 Ad Dajjal came to India from Saudi Arabia, as you know he is the in charge of Indian Mujahedeen. I met him in Hyderabad. I gave CD disk to him and I told him reason why I applied operation "Aishwarya" and reason I stopped my website. And also told him to pass latest CD Disk all over the world. In Sept/2009 I restarted my work and my website www.naziat.org. In 2009/Sept Ad Dajjal went back to Saudi Arabia. I was working on my website after that. In Feb/2012, Ad Dajjal came to Hyderabad for his brother's marriage. I had discussion with him about my work. Indian Mujahedeen may get restart any time if Iran gets attacked. If Indian Mujahedeen gets active then they will be huge impact on the world and some impact on India. One thing you remember If Indian Mujahedeen attacks then they will definitely release letter. If letter not released then that work is not responsible by Indian Mujahedeen. My intention of creating Indian Mujahedeen is to give counseling to terrorists by based on Holy Koran and put all terrorists to Middle East war and other world problem. In year 2005 and year 2011 I send complaint letter to President Of India regarding disclosing Iraq Inspector death mystery those complaint id is listed here P1/A – 49762 and PRSEC/E/2011/17497. If President of India had disclosed my complaint to the world then I wouldn't have created Indian Mujahedeen and people wouldn't have seen many deaths in India. If Indian Mujahedeen do anything in India then President of India is responsible.






Public Comments Space

Enter Your Comments Here.